The WWVB signal is broadcast as a 60 kHz carrier that is AM modulated with a time code frame that is updated once per minute. The data rate is one bit per second. Along with time code information, the data frame also contains synchronization bits, calendar data, UT1 correction, leap year, and leap second data. The clock design presented here only decodes the time data and daylight savings correction data. The software could easily be modified to include decoding of the other information bits, if desired. The the low frequency WWVB signal strength is weak and reception can be problematic. Signal acquisition time is variable, depending on location and atmospheric conditions. Reception is usually best at night between 8pm - 4am. To use the clock, just apply power and wait for reception of the WWVB signal. When the clock receives a complete error-free frame of data, it will automatically reset the display to show the correct time. After the initial time correction, the clock will maintain time even if WWVB reception is lost.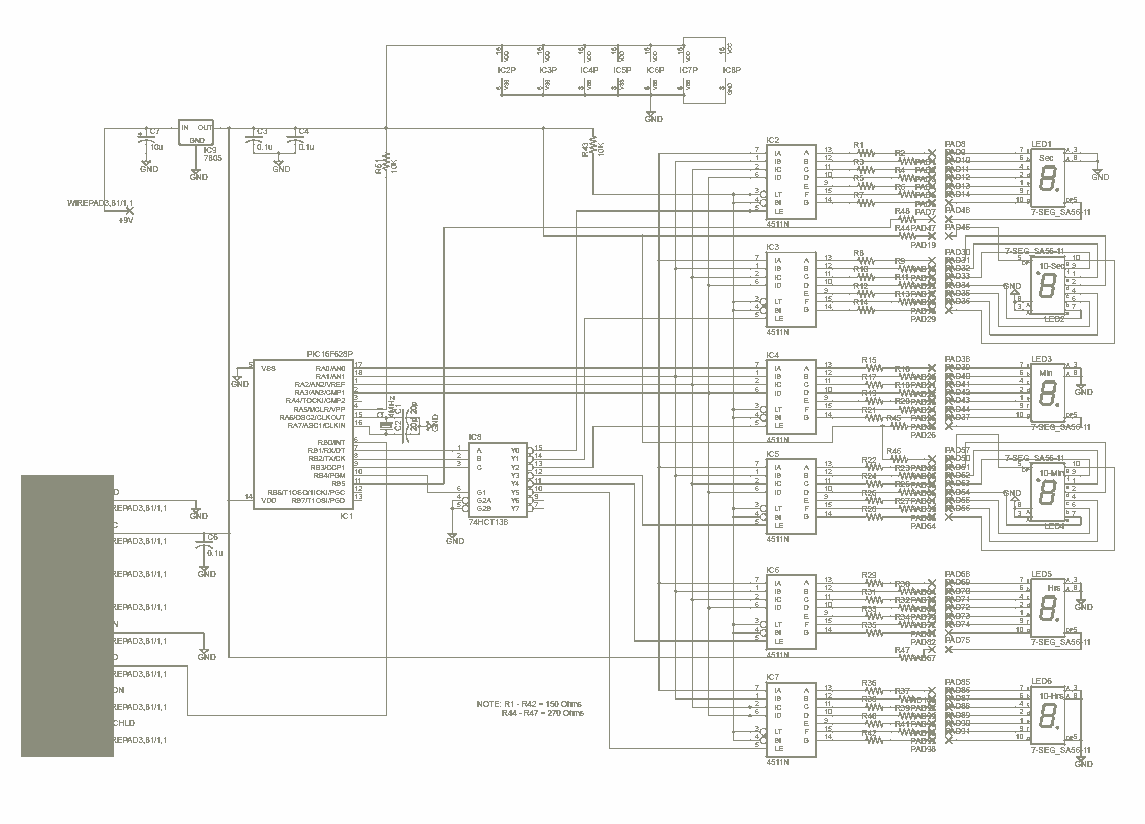 As shown in the schematic (pdf format), the heart of the clock is a PIC 16F628 microcontroller running at 4 MHz. Decoded time data is sequentially output from the microcontroller (RA0 - RA3) to the 7-segment decoder/drivers on a 4-bit data bus. The data is output sequentially as seconds, 10s of seconds, minutes, 10s of minutes, hours, and 10s of hours. The microcontroller outputs (RB1, RB2, RB3) route a 10 uSec stroble pulse from RB4 out to each of the 7-segment decoder/drivers at the proper time to latch the data bus values. Seconds and 10s of seconds display values are updated once per second. Minutes, 10s of minutes, hours, and 10s of hours are updated once per minute. The display consists of 1` red-orange LED 7-segment displays. The decimal points on the displays are used to form colons to separate the seconds, minutes, and hours. The 10s of seconds and 10s of minutes displays are mounted upside down to form the upper colon dots. The WWVB receiver is a C-MAX model CMMR-6 and is available from Digi-Key (www.digikey.com) as part # 561-1014-ND complete with loopstick antenna. Data output from the receiver is sampled by the microcontroller on RB0. Construction I have built two of these clocks, one using point-to-point wiring and one using a pcb. Both versions perform well. Just keep the receiver away from noise sources and the wire / trace lengths short to minimize inductance. I found that the receiver is also sensitive to magnetic fields produced by power supplies. I used a 9V, 200 mA `wall-wart` instead of an internal power supply to eliminate this problem. My pcb was designed using Free PCB software www.freepcb.com. The artwork contains both the main board and the display board on a single layout to save the cost of two separate boards. I purchased the pcb from www.4pcb.com by sending them the gerber files and using their `bare-bones` process. The `bare-bones` process does not include solder mask nor silk-screen. Just cut off the display board from the main board and mount it at a right angle to the main board and wire them together using the pads provided. Receives time broadcast from WWVB, Fort Collins, CO Auto synchronizes internal time with WWVB time Maintains local time when WWVB signal is lost This version is for Pacific Standard Time, and auto detects/corrects for Daylignt Savings Time 6-digit display of hours, minutes, seconds using 1` seven-segment LED displays WWVB sync indicator Time display is in 12-hour format PIC 16F628 microcontroller Software written in C All tools (schematic editor, C compiler, PCB layout software, PIC programmer are free and available for download on the web.
Recommended videos
Make a GPS Clock With a PIC Microcontroller

Digital Clock - Pic microcontroller - 3 modes: decimal, hex, binary

Digital CLOCK PROJECT (PIC) + Circuit +Mikro c Code Download
News
iStreetWire

Johnson & Johnson (JNJ) failed to extend gains with the stock declining -0.61% or $-0.73 to close the day at $118.71 on light trading volume of 6.3M shares, ...

Seeking Alpha

The company offers under the and name and development tools to enable system designers to program for specific applications. MCHP was founded in 1989 and is headquartered in Chandler, Arizona.

Barron's (blog)

TWN Shares of analog chip maker Microchip Technology (MCHP) are up $5.22, or 9%, at $61.85, building upon last night's after-hours gains, after the company yesterday afternoon beat Q2 revenue and profit expectations, and forecast this quarter

iStreetWire

iStreetWire It also provides development tools that enable system designers to program for specific applications; analog, interface, mixed signal, and timing products comprising power management, linear, mixed-signal, high-voltage, thermal&n

Microchip Technology Incorporated (NASDAQ:MCHP)

Markets Daily

The Company's portfolio consists of specialized 8-bit, 16-bit, and 32-bit and 16-bit dsPIC digital signal controllers, which feature on-board Flash (reprogrammable) memory technology. In addition, the Company offers a oad

Electronic Design

Electronic Design a Way to Online Development1) ings cloud-based development tools to developers. It is a complete MPLAB X integrated development environment (IDE) environment. This includes debugging hooks to local devices. There are s

EE Times

EE Times 15) announced a new cloud-based integrated development environment (IDE) for the company's . According to Microchip (Chandler, Ariz.), the free MPLAB Xpress cloud-based IDE is the easiest way for users to get started with MCUs,&

Market Realist

According to research firm Gartner (IT), Microchip (MCHP) reclaimed the top position in terms of revenue in the 8-bit segment in 2014. The company also grew its market share in 8-bit, 16-bit, and 32-bit multipoint control units (or MCUs

ElectronicsWeekly.com

ElectronicsWeekly.com Add to Bookmarks. By Richard Wilson 25th June 2014. Microchip adds data encryption to . Microchip has tuned its eXtreme Low Power (XLP) range with increased data protection capabilities. Recommended Articles ..
Components & Modules Datasheets