| | | | |
| --- | --- | --- | --- |
| Infrared Remote-Control Tester Circuit | | | |
The infrared remote-control tester uses a sensitive PN-type solar sensor that is connected directly to a Darlington amplifier made up of transistors Q1 and Q2. Biasing is provided by R1 and PI, a variable resistor that serves as a sensitivity control. The collector lead of Q1 is the output lead of the Darlington amp, and it is connected to a red LED and the primary of transformer Tl. The function of Tl is to convert the low-voltage output signal to a level high enough to drive a small piezo disc. That disc makes a clicking sound when the sensor picks up an infrared signal that is varying in frequency or amplitude.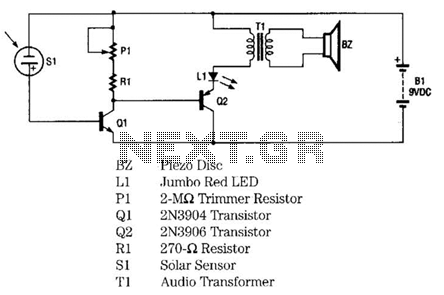 The infrared sensor will also pick up visible light. The use of an IR filter (Wrat- ton #87) is recommended.