| | | | |
| --- | --- | --- | --- |
| Solar Charged LED Utility Light | | | |
Tired of always spending money on flashlight batteries only to have them fail just when you need them? Try this simple circuit out. It would make an excellent science fair project. The white LEDs are quite bright, they provide enough light to illuminate a small room at night. The LEDs produce a nicely focused beam. You can read by the light of this device. The red, orange, yellow and green LEDs broaden the lamp`s color spectrum to produce a slighly warmer color temperature.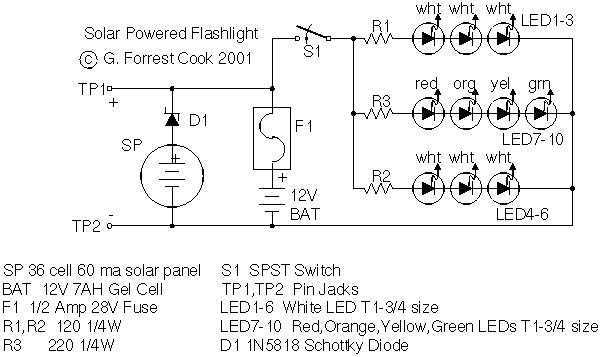 The box also doubles as a 12V power source and can run other small loads such as a transistor radio. This project was built with the Simpler is Better approach, the materials are common and many substitutions are possible. Specifications Operating Vol