| | | | |
| --- | --- | --- | --- |
| Isolated Telephone Interface | | | |
This circuit allows you to record audio from a telephone line into a tape recorder or computer soundcard. Most of the parts for this circuit can be scrounged from an old modem, with some work, it is possible to rewire the modem circuitry and use the old modem case. Note that some countries have laws that require the user of a phone recording device to notify the party on the other end of the line that they are being recorded.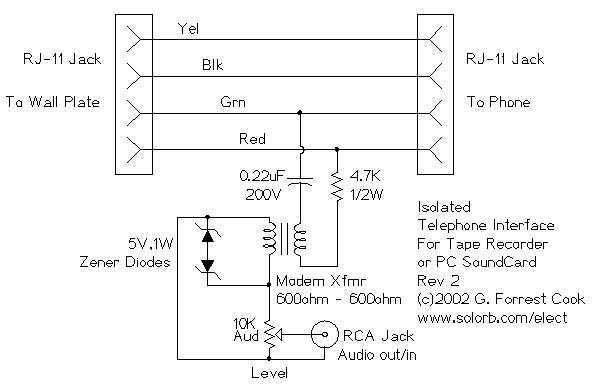 There`s not much to this circuit. The two RJ-11 jacks are set up to feed the telephone circuit through from the wall to the phone. The active signal for a single phone is on the red and green wires. Yellow and black are usually used for a second phon