| | | | |
| --- | --- | --- | --- |
| Variable Bandpass Audio Filter Circuit | | | |
This circuit is a variable audio bandpass filter that has a low cutoff variable from about 25 Hz to 700 Hz and a high cutoff variable from 2.5 kHz to over 20 kHz. Rolloff is 12 dB/octave on both high and low ends.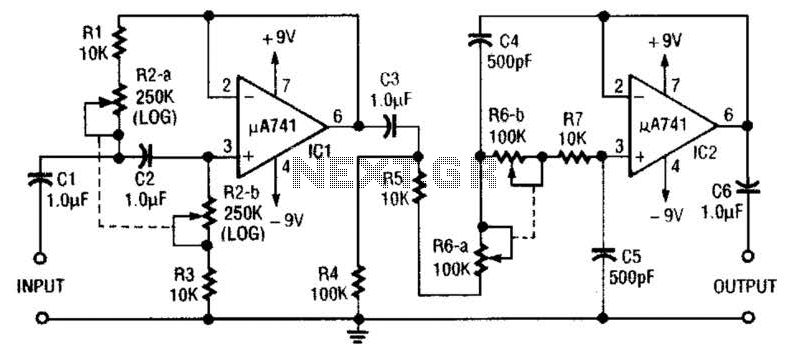 R2-a-b and R6-a-b are ganged potentiometers for setting lower and upper cutoff frequencies, respectively.
Recommended videos
effects from coupling capacitors in audio circuits

Passive RC low pass filter tutorial!

Two Way Active Audio Cross Over Filter Circuit
News
Gizmag

Gizmag The synth, which occupies one side of the wedge, packs a variable width pulse oscillator and a sawtooth oscillator and a digital low pass . There's also a basic ... There's a headphone-friendly out to help get your creations heard. To

Business Wire (press release)

TAIPEI, Taiwan--(BUSINESS WIRE)--Acer has clinched eight Computex d&i (design and innovation) awards 2016 for a wide range of products across its portfolio. The awarded products are the Revo Build modular mini PC, Aspire One 11 notebook, Liq

mySanAntonio.com

Your selection depends on your schedule and your mood. Whichever tour you choose, make sure you take the 45-minute self-guided tour of the cell blocks, the dining hall, the prison liary and more, with great information on history and lore, the

TheWrap

TheWrap According to the Beacon, of the roundtable confirms Van Cleave's assertion, and reveals that members immediately answered a similar question. Others are outraged by the way the activists are portrayed overall in the documentary. &ldq

Centre Daily Times

Centre Daily Times The light, he explained, uses to reduce glare and improve contrast on reading materials, allowing Lose to pick out words and colors more easily. Lose said ... Haupt also demonstrated the PenFriend labeler, which resembles

AnandTech

AnandTech ... ushed aluminum and wood veneer, but when the product hits the market, other options could emerge. Due to its cylindrical form-factor and a tricky internal architecture, the Ola from Cryorig will have a limited amount of external

Entertainment Weekly

I'm lucky I have [country singer] Cam on the road with me. She's awesome. We went to Europe to try some things over there, and we feel 90 percent good about it. We're figuring out how to put all these components together, with guys and video gu

EDN.com

line vanquishes noiseWhen inserted in lines, TDK's MAF1608G noise suppression for cellular bands keeps the total harmonic distortion and noise (THD+N) of the signal at 0% (1 kHz, 8 Ω, 1 W). The device provides a current rating of

GearNuke

GearNuke Uncharted 4 has some unlockable render modes including a cel-shared and various . These can be unlocked by using points that are acquired by finding the collectibles in the game. The following render modes and can be ...