| | | | |
| --- | --- | --- | --- |
| High speed paper tape reader | | | |
When computer peripheral equipment is interfaced, it is convenient to work with logic signal levels. With a nominal 4 V at the output dropping to - 0.6 V on illumination, this circuit reflects the requirements of a high-speed, paper tape optical reader system. The circuit operates at rates of up to 1000 bits per second. It will also operate at tape translucency such that 50% of the incident light is transmitted to the sensor, and provide a fixed threshold signal to the logic circuit, all at low cost. Several circuit tricks are required. Photodarlington speed is enhanced by cascode constant voltage biasing.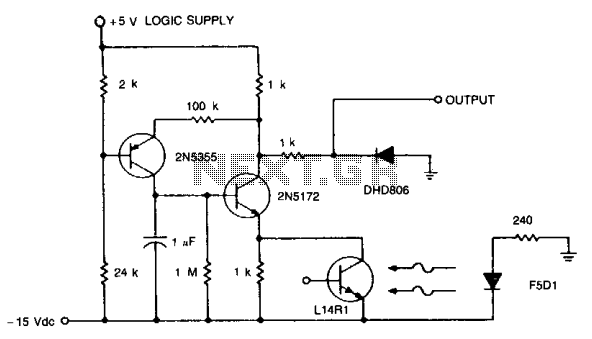 The output threshold and tape translucency requirements are provided for by sensing the output voltage and operating to 2000 bits per second at ambient light levels equal to signal levels.