| | | | |
| --- | --- | --- | --- |
| Regulated DC-to-DC converter | | | |
Low power dc to dc converter obtained by adding a flyback circuit to a square wave oscillator. Operating frequency is 20 kHz to minimize the size of LI and C2. Regulation is achieved by zener diode D2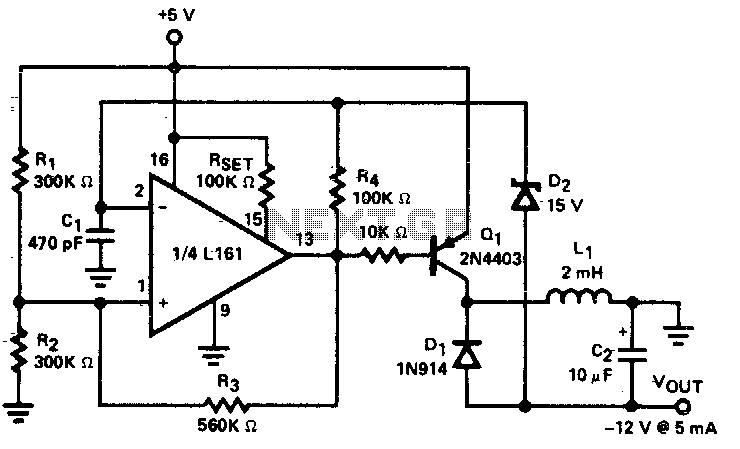 Maximum current available before the converter drops out of regulation is 5 mA.
Recommended videos
Switch mode power supply tutorial: DC-DC buck converters

DC-DC Boost converter tutorial

How to Make AC to DC converter at Home Very Easy.
News
The Cerbat Gem

The Cerbat Gem Cree, Inc. (NASDAQ:CREE)'s stock had its "hold" rating restated by equities researchers at Deutsche Bank AG in a report issued on Saturday. They currently ...Cree, Inc. (CREE) Stock Rating Reaffirmed by Deutsch

24/7 Wall St.

24/7 Wall St. With a market that seems to be teetering somewhat due to high valuations and some messy geopolitical issues, it makes sense to look for companies that are ...

Upgraded ECI brings a new dimension to power conversion for bi-directionality and multiport use

Electropages (blog)

Electropages (blog) The new and improved ECI technology offers bi-directionality and multi-directionality on every converter, inging a new dimension to modular and uninterruptible (UPS) with enhanced flexibility and improved efficiency. Wit

The Cerbat Gem

The Cerbat Gem Cree logo Cree, Inc. (NASDAQ:CREE) has earned an average recommendation of "Hold" from the fifteen ratings firms that are currently covering the firm. One equities research analyst has rated the stock with a sell re

Flyback transformer optimised for industrial applications

Electropages (blog)

Electropages (blog) Used in conjunction with Avago's chipset, the device is suitable for a wide range of industrial applications including , uninterruptible and switch-mode , automation systems, DC-DC converters, renewable energy , and AC

The Cerbat Gem

Cree logo Shares of Cree, Inc. (NASDAQ:CREE) traded down 11.1% on Wednesday following a dissappointing earnings announcement. The stock traded as low as $20.82 and last traded at $22.07, with a volume of 7,809,146 shares changing hands.

HuronReport

HuronReport The Company's products are focused for applications, such as indoor and outdoor lighting, video displays, transportation, electronic signs and signals, , and wireless systems. It currently has negative earnings. The Firm has SEC

RealWire (press release)

The new, upgraded ECI ings a new dimension to power conversion, allowing for full bi-directionality and multiport useBelgium, April 26 2017: CE+T Power, ...

GlobeNewswire (press release)

Orbit's Power Group, also located in Hauppauge, NY, designs and manufactures a wide array of power products including AC , frequency converters, , uninterruptible , VME/VPX as well as various COTS ...