| | | | |
| --- | --- | --- | --- |
| Simply by remote control law circuit diagram | | | |
The receiver provides two TV signal, a TV in the living room, another TV in the bedroom, along with a satellite receiver. Watching television in the bedroom for Taiwan convenient, but when watching television in the living room,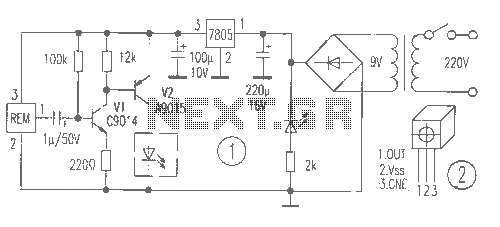 for Taiwan to bother, to be holding the remote control to the bedroom to change my desk, then back to the living room watching a program, a lot of trouble. In order to facilitate viewing, design a remote infrared remote control device, the actual use to good effect. Principles and production process of the circuit is as follows: REM optional infrared receiver universal integrated infrared receiver, the shape as shown, infrared remote control signal received by REM V1, V2, zoom promote infrared emission control work. The figure outside the dotted line in the living room, with a coaxial cable and infrared emitting diodes after receiving portion is connected to the appropriate place in the front bedroom nook satellite receiver. With this device, you can easily hold the remote control in the living room to see the need to choose the TV program ratings.